Hi folks, just a quick update on my latest mini-project which I am eagerly waiting to get started on!

Picked up the 1/144 scale Gundam QUAN[T] 00 Full Saber model kit recently as a side-project to 'hone' my GUNLPA building skills, or so to speak. The kit itslef - meaning the robot is nothing spectacular to look at, to be honest, but once the good folks at Bandai decided to add the GN Sword VI Full Saber to the mix, the 00 Quat instantly becomes a whole new level of awesome. In addition to the kit, the full set from which I bought off a Hong Kong seller off Ebay also comes with

specialized water slide decals for a touch of 'detailing' on an otherwise bland kit. Personally, I absolutely adore the limitless level of

customization

when

utilizing

these excellent decals, which can only be a good thing to making your GUNPLA model stand out on your display shelve/ cabinet.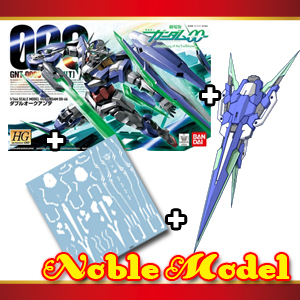 GN Sword Full Saber Kit
weapon pack for
HG
Gundam 00 Qan[T]-
available separately from
Hobby Japan
February 2011 edition.
With
he full kit plus additional decals arriving sometime next week, it should be a rather satisfying and fun build, one which I am really looking forward to see it through with maximum commitment and whose end result hopefully will turn out better than I expected. Stay tuned!
Gundam
00 Copyright Bandai Co. Japan