A VERY WARM AND GOOD MONTH ONCE AGAIN TO THOSE WHO FOLLOW MY BLOG FROM AROUND THE WORLD! This blog post is truly and really outstanding if you are a fellow Transformer Vintage collector who is planning on really 'kicking up' a gear when it comes to adding a truly one-of- a kind piece of rare Giftset to be ever made to your burgeoning collection, especially those made in Japan exclusives that were released sometime in the late 80's .
Once again, to my 'detractors' and jealous nonsensical individuals who are opposed or not really interested in following my blog-- please for your own sake-- turn away at once! -- least you turn even more green with envy with my latest coup' de' grace
of finally-- (I say that in reference to waiting a whole
SIX MONTHS
) -- obtaining the current ''crowning piece'' in my humble and growing collection of Vintages gems: The Heavy Linked Gestalt Autobot/
Cybertron Warrior: C-131 Raiden ( ライデン) !! I got some ;street-dork' cred for managing to own this awesome giftset! Haha, not to brag, just an so stoked that my good patience and great help from a friend pulled through.
Transports the Cybertron warriors. Destroys any who get in his way. Personality: Always punctual. Hates Devastator and wants to beat Predaking.
Raiden

(Trainbot, 1987, 1990)




Japanese ID number:

C-131

Accessories:

Left & right fists, chestplate, waist armor, back armor, 2 "Leg Beams", 2 "Wing Lasers", "Train Bazooka" rifle
Raiden began life as the

Diaclone

"Trainbot", released as part of the "Real and Robo" sub-line. One of the few

Diaclone

toys not initially ported over for release in Hasbro's

Transformers

line, the Trainbots eventually found their way into the Transformers universe a few years later when they were released by

Takara

, with the addition of waist and back armor panels for their combined mode, as part of the

Headmasters

line, available only in Japan.
The six Trainbots who form Raiden were available both individually and together in a giftset. Like his fellow

Diaclone

-born combiner Devastator, each of Raiden's components becomes a specific party of his body; they are not interchangeable, like the later-designed "Scramble City" combiners were. Raiden requires several additional parts to complete his combination, beyond the usual extremities-and-chestplate accessories of most other combiners, which take the form of various unique weapons: his shoulder-mounted "Wing Lasers", ankle-mounted "Leg Beams" and hand-held "Train Bazooka" gun, none of which are wielded by any of the smaller Trainbots.

The Trainbots were later re-released in 1990 as part of the

Zone

toyline, but only in individual packaging, never as a giftset

.
If so ever one of you lucky folks have aver the opportunity to visit the Land of the Rising Sun aka Japan, please be very sure to take time off and effort to go about locating the most quintessential and most hard-core complex in the whole of the toy hobby-mad country! It's literally a treasure trove of rows and floors upon floors of the most rare, sought after and DESIRABLE TOYS for as far as the limit can stretch! Prices for this super-rare set can sometimes reach ''astronomical'' value, of course depending on the state of the contents and the boxed specimen at hand. Generally, the uber-collector in some of you guys will want to find a COMPLETE paper-works/ stickers, individual guns/ weapon and those little 'green connector' pieces. Expect to pay a premium for an 'opened but unused' specimen say in the region of 90,000 Yen to a whopping
108,000 Yen
! Talk about exorbitant! You might be even lucky to find a completely pristine and unopened set. But of course, I shudder at the thought of just HOW much that set might be going for! LOL.
Transformers Takara G1 C-131

( ライデン)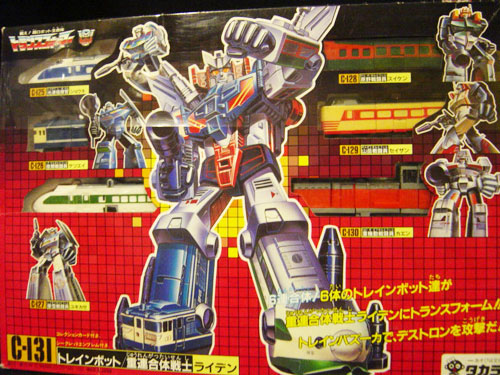 The box art is to say the least, very retro and nostalgic. The fact that there is a huge character art of Raiden in his combined mode on the front of the box makes it prominent and stand-out when one take a first glance. It's got the distinction one of the few if not only train-team combiner to grace the Transformers franchise. That's saying something, dontcha think?! . Heck, even these sets were pretty rare during my early childhood in the late 80's to early 90's. I could not for the life of me even remember seeing any or s sniff of the elusive Raiden set on those air-condition Departmental Stores. Ever. I can only name only other ONE desirable toy, which do I have some very strong an vivid memory of is the other Autobot Gestalt Car team which was none other than Roadceaser. But that's it. No Trainbots or Raiden.
ONLY
SIX TRAINS, BUT WORTH EVERY PENNY!
The impressive Raiden combination consists of approximately 6 individually made toy trains and transformable robots, with their origins stretching back to their roots in the later part of the 1970's and early 80's. Any Vintage Transformer enthusiast out there worth his money will tell you that not only were these
'Trainbots'
produced in limited quantity, they were and and are still considered to this day, truly rare and hard-to find, not least becoming one of the most sought after and much talked-about Combiner / Gestalt teams to ever grace the Transformers collecting fandom. Be forewarned, that finding them will certainly cause some form of painstaking effort, more often than not a heavy toll on one's finances. The fact that the transforming process for each of the individual train/ robot members are simplistic, beguiles the fact that when these six awesome toys merge into the mighty gestalt warrior
Raiden
, the process is anything but! It requires some level of varying skill, to say the least!
The main function of the
Trainbots
is transport, but when an obstruction arises that prevents them from delivering their passengers, they won't hesitate to combine into the mighty
Raiden
(ライデン) to clear the tracks. And no obstacle is too big for Raiden's matchless ambition: he is, after all, the guy who maintains an active rivalry with
Devastator
, and plans on challenging
Predaking
next! Fittingly enough, his other great personality trait is his peerless punctuality. This is one Robot Train that always runs on time!
Any yes, I am only using 3 to 5 shots! So be it!
Okay folks, time for a confession: I would not have managed to obtain this super-rare piece of vintage toys if it were not for the high and huge generosity of a really cool and understanding seller and internet buddy, the one and only: Bodhar2000! Seriously, man this blog post is dedicated to your cool arrangements for payments and of course your willingness to let me bide my time to receive this beautiful box. MAJOR UPDATE! : THE PACKAGE ARRIVED SAFELY AND SOUNDLY ON 7th October 2010, AND IT CAME IN WRAPPED TIGHT WITH BUBBLE-WRAP TO MINIMIZE THE DAMAGE FROM THE AIR TRAVEL. If you guys are thinking of getting anything super- rare or hard to find Transformers, I can't recommend this super seller enough!
Raiden and it's individual Trainbots are a true defining piece in Transformers collection history. I challenge those detractors and harsh critics of mine to obtain them if you can or if you are able to!
As for my loyal and committed followers, I told you guys and have promised not to mentioned delivered when it matters the most. Last but not least, here is a small treat as to what yours truly looks like! LOL. Haters tot he left, please! The proof is in the pudding, so the saying goes! This is Wing_Saber-X signing off for the time-being! Peace!