The name's Stark, Tony Stark..but you can call me....IRON MAN!

Hello guys and girls from the world over! This is your resident
nut job
passionate toy collector WSX here once again to present a humble purchase which has cought my attention this past couple of months. The character in question which need no introduction to those who are very familliar with the Marvel Comics brand of Superheros is going to drool over
Revoltech No.024 Iron Man (アイアンマン) Mk.VI!
It's been in the works since last year, and yours truly -although finding out late of it's release, just couldnt let this one slip through my fingers! I just had to obtain it.no matter the cost!
This beauty follows in the footsteps of the previously random- yes I know Kaiyodo does not seem to follow a particular formula/ strategy when they plan on releasing the next (Tokusatsu) or superhero name in their much impressive line of super-poseable action figures that is Revoltech, but this release is for those who, naturally again- wont want to shell out huge amounts of $$ for the bigger Hot Toys 12 -16 inch Movie Accurate Iron Man figures. I digress...but the bottom line is that the pain job on this action figure height Iron Man Mk.VI looks gorgeous- and apprently this has a limited first run of production. It's sold out EVERYWHERE and the only way to get your hands on this model is by going to online to Ebay..but as usual, when sought after hot items are concerned, be prepared to pay a premium price. No quarters given!
Technical Data: 

Product Name
Tokusatsu (Sci-Fi) Revoltech No.024 Iron Man Mk.VI [Kaiyodo]
Item Code FIG-KAI-2395
Manufacturer Kaiyodo
Release Date early Mar-2011
Product Line Tokusatsu (Sci-Fi) Revoltech
Original Title Iron Man
Specifications Size: approx. 155mm in height
Details Optional parts:
Flying mode effect part (display base) x 1
Effect (repulsor ray) hand part x 2
Optional wrist x 4
Name plate x 1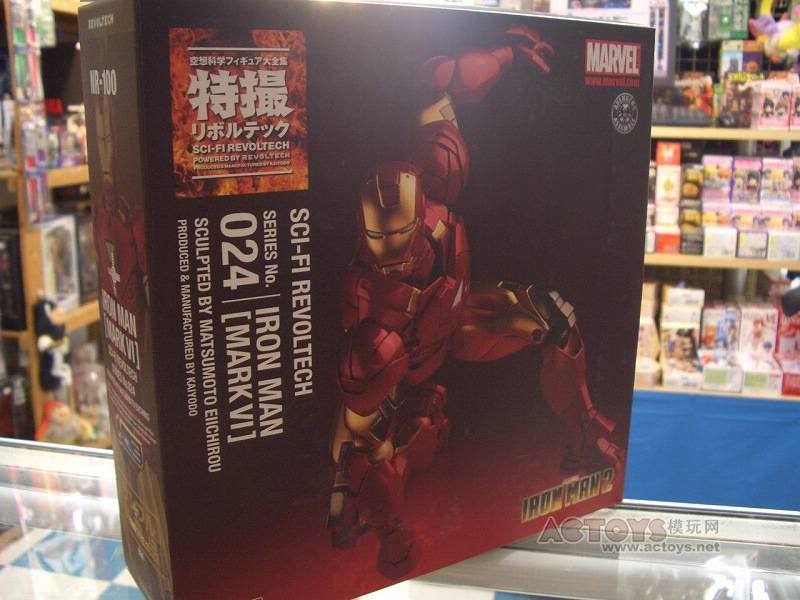 Final Say:
This is yet another stellar release from the very talented folks at Kaiyado. I paid a slightly more premium price for him, but the extras that come packed with this version of Iron Man Mk. VI sure is worth the price alone. For me personally, the addition of the 'Repulsor' Ray beams makes the figure look complete and alive, jsut like his on-screen and comic counterpart. Id say that the only minor gripe is that Kaiyado did not include a 'tony Stark' head ala Kyaido Revlotech Batma's Brece Wayne alternate head as an added measure of realism. Nevertheless, positive sales and glowing initial reviews have made this Iron Man MK VI a erally, really desirable toy! Bring on
WAR MACHINE!
A+

IRON MAN Copyright Marvel & Kaiyado 2010.