Hi there boys and girls! This is a very short update from yours truly Adam aka WSX. This news was received sometime ago via Japanese informer insider, who goes by the pseudonym
snakas through his Twitter account. The awesome news was also posted on my most favorite source for Transformers news, the uber fan-site TFW2005.com.
Predaking
is the ferocious fusion of all five of the
Predacons
:
Divebomb
,
Headstrong
,
Rampage
,
Tantrum
, and team leader
Razorclaw
. Predaking is highly unusual, perhaps even unique, among
combiners
by the successful fusion of each of his component elements' physical abilities and personalities. Most others of his kind are rendered
stupid
,
suggestible
, or borderline
insane
by the merging of minds, but the five Predacons are united by their shared love of the hunt, and produce a single complete persona. Between his physical prowess, unexpected mental acuity, and animalistic, almost instinct-fast hunting actions, Predaking is one of the most dangerous and intimidating weapons ever added to the Decepticon ranks.
As a weapon he is without equal; as a warrior he is without restraint. He can lift one million tons without straining a circuit
. When Predaking is on your trail, all hope is lost.
From the words of TFW2005:-
R
ecently posted to the Twitter account of
@snakas
is a new image of a reissue
Predaking
. This image shows Predaking standing next to a
Transformers 2010
placecard, with more promotional art behind it.

This Predaking appears to have gold paint apps in place of the yellow parts from the original release. The place card states that it is 15,750 yen, which is roughly $179 USD. No more is known about this piece at this time, or when we may be able to get our hands on it.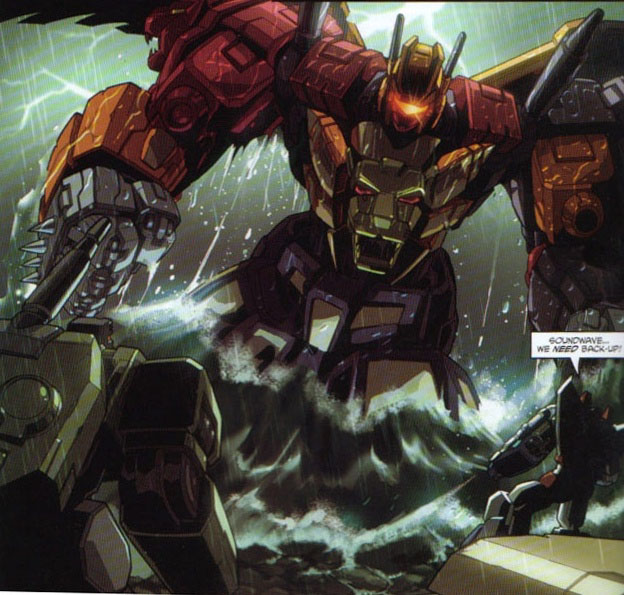 A must-get reissue for me, since the first one remade in 2004 was never bought. Prices for the original vintage Predaking has reached crazy proportions, but this newer version, albeit not being officially announced by Takaratomy, is a sure fire hit and will sell like hot-cakes. I know prices will soar due to it's exclusive shinier go;d/ copper repainted parts. The combined mode looks like a brutish monster, and hopefully, tis release will include metal feet for the individual Predacons. Oh hell yes! It's a great time to be
a Transformer fan!
UPDATED PICTURE!
CREDITED AND LINKED TO DENGEKI JAPAN
Predaking/ Predacons Copyright Takara and Hasbro