UPDATE! THE NEW PICTURE UP-CLOSE , SHOWS THE HEAD-SCULPT IS PRETTY SWEET, IMHO! LOOKS LIKE MY WEAKNESS TO BUY OR PRE-ORDER THIS HAS JUST GOTTEN STRONGER. OH, HELL YES! THANKS TO
TF@THEMOON
AND HONG KONG BASED SITE,
CYBERGUNDAM BLOG!
CREDITED AND ACKNOWLEDGED, GUYS!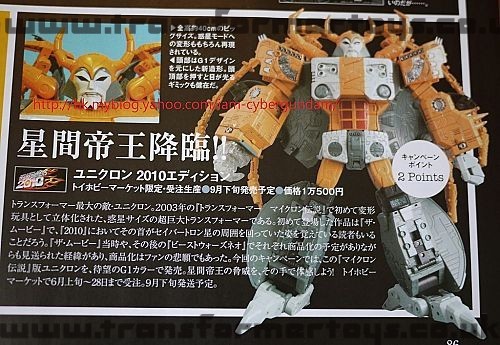 Hi there folks! Well, it looks like an increasing certainty that the year 2010 would become one of the most "celebrated" time as far as us Transformers community are concerned!
Takaratomy, the ever omni-present Japanese half that is responsible for the birth and idea of the beloved transforming mecha is at it once again. Not sometime ago, there was the novel idea of releasing some uber-important iterations of the Japan-themed release from the 1986 series: "Fight! Super Robot Life Transformers 2010"
As it was previously reported, the background behind the Takara- Tomy Campaign was to, IMHO, give fans of the series a more "anime" or 1986 Movie accurate" representation of the Giant and malevolent destroyer of all life of Planets: Unicron.
PRELIMINARY INFORMATION:
ToyHobby Market
has revealed that they will be exclusively selling the TakaraTomy re-release of the Unicron figure. As
previously
reported
, the figure will have a new head sculpt.

The figure will be redecorated in colors closely resembling the character's Generation 1 counterpart and,
as expected
, will be released under Takara's2010 campaign.

Pre-orders will take place from June 4 to July 4, 2010 with release in late September, and will run you about 10,500 Yen (~$177 USD) /
FINAL THOUGHTS:
--
HMM...IT SHOULD WORK OUT APPROX RM 420 EACH. PRICEY, BUT PRETTY REASONABLE; THOUGH IT'S JUST A STRAIGHT UP RETOOLED HEAD AND NEW COLOR. NOT GOING TO PRE-ORDER IT JUST YET, BUT ITS ONE OF THOSE THINGS I GUESS, TO DECIDE TO BUY IT. WE SHALL SEE1 RIGHT NOW, ITS JUST ONE STOCK PHOTO, AND ALTHOUGH I MUST ADMIT THAT I AM PRETTY UN-ATTACHED TO THE UNICRON CHARACTER, THE FACT IS THAT I DON'T EVEN OWN THE ARMADA/ SUPERLINK VERSION FROM WHICH THIS LIMITED EDITION IS RETOOLED FROM.
B+?
Details of product translated and credited to
www.tformers.com!
Copyright 2010 TAKARATOMY Japan & TOYHOBBY-MARKET